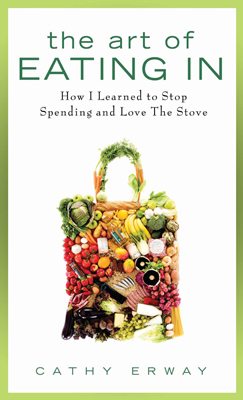 What's impressive about Cathy Erway and her new book, The Art of Eating In, is that in a city with fashionable restaurants popping up on every corner (New York), she manages to make staying at home sound much more luxurious.
Her book is structured like a memoir, weaving recipes into her tales of the underground food scene, romantic bouts and general twenty-something living in Brooklyn. What's more, the recipes are for both the practical and the adventurous.
But you don't need to purchase her book to take advantage of her savvy. Erway's blog, Not Eating Out In New York, offers up tons of great recipes which each include a Cost Calculator, a Health Rating, and more recently, a Green Rating. For anyone who shops at local farmers' markets you know some of the freshest, and cheapest, food can be found away from the big grocery stores and Erway focuses much of her recipes on local ingredients.
In 2006, realizing that she was spending a lot of money each day between eating out for lunch and getting take away for dinner, Erway embarked on a two-year-long mission to cook all of her meals at home. Four years later, her mission has become a way of life, and Cathy frequently includes lessons in community building and sustainability in her posts reminding us that aside from saving money, the art of cooking in and eating well is, at it's core, the art of contentment.